Project Outcome Peer Discussion Migration
February 13, 2023
The Project Outcome for Public Libraries peer discussion board is migrating to ALA Connect as of March 1, 2023. Please click here to join the new community. This is a space for Project Outcome users to connect with each other and discuss outcome measurement strategies and practices at your libraries. 

All ALA members have an ALA Connect account connected to their ALA login. Non-members are welcome to create a free ALA Connect account and have access to numerous resources. Non-members can post to the peer discussion board once they create a free account, log in and join the community.  

To join the Project Outcome community, login to your ALA Connect account, visit the community page, login, and click the blue "join" button above the community name.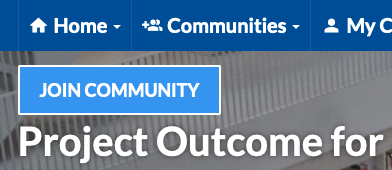 ALA Connect allows you to adjust your email notification settings, including real-time receipt or daily digest mode. You can change your email receipt preferences at any time in Connect, by clicking on "My Connect," then "Community Notification Settings." This short tutorial shows how to adjust your notification settings. 

For more helpful tips on using ALA Connect, please click here or visit the Connect FAQ page for more information. For technical assistance with using Project Outcome or managing your library's account, please contact info@projectoutcome.org.